UPA is now able to offer therapy via secure video chat. Our platform is HIPPA compliant, safe and hopefully, easy to use. You will be able to have your sessions with your UPA therapist using your smart phone, tablet, laptop or desktop (provided that it has a camera and microphone attached). For phones or tablets you will need to download the free application from Google play store or the Apple Store. The app is Telehealth by Simple Practice. You will not need to download anything to use your desktop or most laptops.
When a session is scheduled as a telehealth session, your reminder will look like this: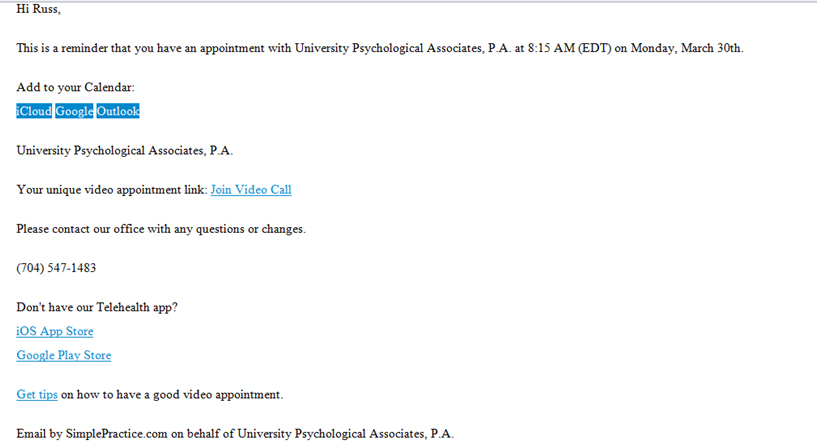 At the time of the appointment you just click the Join Video Call button and it will take you to our "waiting room" where the screen will read "Waiting for other participants.."  You can try out the link as soon as you get the reminder so that you are able to type in your name and give permission for the app to access your camera and microphone and you will be all set for your session.
Recognizing the Need for Mental Health Support
In an increasingly connected world, access to mental health support has evolved. University Psychological Associates, P.A. in Charlotte, North Carolina, proudly offers Telehealth Services, bridging the gap between individuals and crucial mental health resources. By embracing technology, our therapists can provide the necessary support and treatment remotely, ensuring individuals can access mental health services conveniently and safely.
Recognizing the signs indicating you might need professional mental health support is crucial. Here are some symptoms that may suggest you should consider seeking help:
Persistent feelings of sadness, anxiety, or emptiness
Excessive worry or fear
Extreme mood swings, including uncontrollable highs or feelings of euphoria
Feeling excessively tired, low energy, or having problems sleeping
Detachment from reality (delusions), paranoia, or hallucinations
Inability to cope with daily problems or stress
Trouble understanding and relating to situations and people
Alcohol or drug abuse
Significant changes in eating habits
Excessive anger, hostility, or violence
Suicidal thinking
It's important to note that everyone experiences these issues differently, and it's okay to seek help even if your symptoms do not align perfectly with the above list.
Even though mental health issues are widespread, access to professional help isn't always straightforward. Geographical constraints, time limitations, and personal circumstances can make it challenging for individuals to seek face-to-face therapy. Telehealth services, therefore, provide a much-needed solution, allowing individuals to connect with mental health professionals without the need to travel.
In the face of a global pandemic, safety and social distancing have become paramount. Telehealth services offer a safe and secure platform to seek mental health support while adhering to safety guidelines. Moreover, for those who might feel anxiety or stress about in-person appointments, telehealth provides a comfortable alternative, making therapy more accessible.
Additionally, telehealth services offer unparalleled convenience. Whether you live in a remote location or have a busy schedule, you can connect with your therapist from the comfort of your home at a time that suits you. This convenience can encourage more individuals to seek the mental health support they need, promoting better overall well-being.
Frequently Asked Questions